The Campden Wonder
"Time, the great Discoverer of Truth, shall bring to Light this dark and mysterious Business"
People
This section is intended to bring together information about the many and varied people who are mentioned in the course of the story, or who are relevant to our understanding of it. It is not yet complete and probably never will be, since I plan to add to it as my research progresses.
---
As the man who disappeared on 16th August 1660 and is presumed murdered, with tragic consequences for the Perry family, only to reappear some two years later telling a bizarre tale of abduction and enslavement in exotic climes, William Harrison is, of course, central to this entire story.
Many people have attempted to explain the Campden Wonder over the last 350 years or so, but it does not seem to have occurred to anyone that it might help us understand these events rather better if we knew a little more about the man concerned. No real effort, so far as I am aware, has ever been made before to shed light on the life and background of William Harrison, steward of the Dowager Viscountess Campden.
Sadly, despite several years' research, William Harrisonremains an enigmatic and elusive character
The main problem is simply that William Harrisonis just a very common name. There is no shortage of references to men named William Harrison in the historical records of the time, but this is not a great advantage: on the contrary, it is a major handicap. Find a reference to a man called William Shakespeare in an Elizabethan or Jacobean document and you will be quite at liberty to suspect that the man in question is the Bard of Stratford, irrespective of whether the document relates to Warwickshire, London or anywhere else in the country. But turn up a reference to a man called William Harrison, and the name is so commonplace that you can be 99.9% certain that the man in question is not the Campden steward, unless there is something else to point in that direction. Identifying the tiny proportion of references which do indeed relate to the protagonist of our tale, and which would allow us to piece together his life if they could be recognised, is a well nigh impossible task.
Indeed, I am convinced that there were several people of various ages called William Harrisonliving in Chipping Campden in 1660. Disentangling the lives of just these individuals is hard enough. What are my reasons for thinking that William Harrison the steward was not the only man of that name living in Chipping Campden in the 17th century?
Firstly, there are a number of references in Chipping Campden records from the first half of the 17th century to a man named William Harrisonwhose occupation was that of a weaver. He is mentioned in John Smith's "Men and Armour" 1608, listed under Chipping Campden. He is also named in the will of William Davenport of Chipping Campden, proved at the Prerogative Court of Canterbury in 1633, in which Davenport bequeathed to his son Lawrence "All that Messuage, tenement and Burgage with th'appurtenances wherein William Harrison Weaver doth now dwell and inhabit scituate and being in Chipping Campden". A John Harrison, weaver (perhaps a brother?) had a son baptised at St. James' Chipping Campden in 1617 according to the registers.
The William Harrison who held the responsible and prestigious position of steward to one of the most important families in the land was clearly literate and educated, judging from the account he sent to Overburyand his signatures on various documents. It seems unlikely that this William Harrison should come from a family of local weavers. More likely, he is from an entirely separate family of the same name.
Secondly, it seems highly unlikely that all of the references to William Harrisonin the Chipping Campden parish registers of the time could relate to the same man. For a start, there are two burials: one in 1670 of "William Harrison", then again in 1672 of "Mr William Harrison". The title "Mr" appears to be reserved fairly consistently for the great and the good of the town in the registers. For example, the vicar of the time is invariably "Mr Robert Lilly" or "Mr William Bartholemew", while none of the Perry family is ever honoured in this way. Hence, we must suspect that the 1672 burial entry refers to the former steward, while the 1670 entry refers either to one of the five William Harrisons baptised between 1621 and 1663 or to another man.
Similarly, the registers list the burial of two women who are described as being the "wife of William Harrison " before Harrison's disappearance in 1660, namely Penelope in 1650 and Ann in 1658. If we assume that Overbury's account is accurate, and that William Harrison the steward's wife was still alive in 1660, then either he must have married at least three times (and twice in the space of 10 years when he would supposedly have been in his 60s) or one of these wives belonged to a different William Harrison.
Finally, a closer inspection of the Chipping Campden Grammar School accounts shows that in addition to mentioning William Harrisonthe "feoffee" (a post roughly equivalent to that of school governor today) who signs the accounts, this document also frequently lists another man to whom the School is giving charity money, just as it does to the Perry family. It seems inconceivable that these two William Harrisons could be the same person. Moreover, the fact that the accounts often refer to "old William Harrison" suggests that there is a need to distinguish him from a younger man of the same name. One might also surmise that "old Willi Harrison" is not of particularly high social status, given the rather disrespectful tone of these entries. The fact that payments to "old William Harrison" continue throughout the period of the steward's disappearance, in 1661 and 1662, whereas the accounts are never signed by a William Harrison during this period, gives this theory further support. The last payment to "old Will Harrison" is in April 1663. He may have died at that time and his burial not been recorded in the Chipping Campden registers for some reason, or he may have survived a while longer and finally expired in 1670.
Bedevilled by these difficulties, and not for the want of trying, I have so far failed to answer some of the most fundamental questions about William Harrisonthe steward:
· Where and when was he born?
· Who were his parents and what was his background?
· What was his true social status and level of education?
· Who was his wife and where and when did he marry?
· How many children did he have?
· Did he really have a son called Edward Harrison and, if so, what became of him?
· What were Harrison's religious and political allegiances?
I can answer none of these questions. If they could be answered, at some point in the future as a result of further basic historical research, I feel we would be vastly closer to solving this mystery than any amount of idle speculation is likely to take us. For the moment, however, speculation is pretty much the only option available.
Many have assumed that Harrison was a local man, born in or near to Chipping Campden. This is entirely possible. There were certainly plenty of Harrisons living in the area at the time, and some of them were important people. The Chipping Campden Borough Charter of 13th June 1605 lists one Roger Harrison amongst the capital burgesses and some have speculated that William Harrisonmight have been his son. Overburystates that Harrison was "about seventy" in 1660: if this is accurate, then he would have been born around 1590, and if he had been baptised at Chipping Campden, the baptism entry would have appeared in the first register book of the parish, now sadly lost.
So yes, Harrison could have been a local man. But we cannot be sure of that. Not all of the people who were prominent in Chipping Campden at this time had been born there, by any means. William Bartholemew, vicar of Chipping Campden 1636-1660, according to his epitaph in St. James' Church, had been Sir Edward Noel's chaplain at his home at Brook, Rutlandshire before being appointed to the Gloucestershire living and the indications are that Bartholomew was probably from the east midlands. He was educated at Cambridge and married at Gainsborough. His predecessor, Robert Lilly, was a Leicestershireman according to Alumni Cantabrigiensis, and this is consistent with the biography of his nephew William Lilly the astrologer, who was born at Diseworth in that county. Robert Dover, who gave his name to Dover's Hill near Chipping Campden, venue for the famous Cotswold Olympicks which he organised every year until they were closed down by the Puritans, came originally from Norfolk and appears to have been brought to Gloucestershire by his profession as a lawyer. Robert Dover's wife Sibella, was the daughter of the Lincolnshire-born William Cole, Marian exile and Dean of Lincoln Cathedral.
It is not unreasonable to assume that Sir Baptist Hickswould have brought a fair number of hangers-on with him from London when he took up residence in Campden. Similarly, when the Campden estates passed to the Noel family on Sir Baptist's death, the Noels may well have appointed trusted staff from their estates in Rutland to look after their new Campden interests. There appears to be a whole clique of important people in the town in the 17th century who have links with the Leicestershire/Lincolnshire area, presumably through the Noels who were so prominent in that part of the country too. There is every possibility that William Harrison, or his father, could have first come to Campden in this way, either with Hicks from London or with the Noels from the east midlands.
Our best hope of shedding light on Harrison's origins probably lies with probate records. One might have expected William Harrisonhimself to have left a will. If not William himself, then perhaps Edward or one of his other sons, his father or a brother might have mentioned property in Chipping Campden in their wills. No such document has yet come to light, but it is still far from impossible that evidence of this kind could be discovered and add to our knowledge of the steward and his family.
So, we do not know either way whether Harrison was a local man or a newcomer, nor do we know with any certainly when he was born. Overburystates that he was "about seventy". But is this accurate? Could it be an exaggeration on Overbury's part?
According to Overbury's Account, William Harrisonset off in the middle of August to undertake, on foot, a round trip of at least 10 miles, for part of which he expected to be carrying a considerable sum of money, which in those days meant heavy coin.
Looking at the Chipping Campden parish registers for the relevant period, the latest baptism entry relating to a child whose father is called William Harrisonis dated 1644, by which time, by Overbury's reckoning, William Harrison would have been about 54. As best we can tell, Harrison probably died in 1672, which is the last year in which he signs the accounts of the Chipping Campden Grammar School, and when the Parish Register shows the burial entry of a "Mr William Harrison". If he was 70 in 1660, by 1672 he would be 82. One cannot help wondering whether William Harrison was in fact rather younger than Overburyestimates in his Account at the time of his disappearance.
The fact that in 1663, payments are still being made to an "old William Harrison", who is, it would appear, given the epithet "old" in distinction to the younger man of the same name, our protagonist, simply reinforces this impression that our man may have been rather less than his supposed seventy years of age in 1660.
What of Harrison's background and status? Could he not simply be a local boy made good, an offshoot of the weaver family who did well for himself? While this is not impossible, it seems to me unlikely. I believe that people have, on the whole, tended to underestimate the true social status of William Harrison . Perhaps because they have in their minds the picture of this old man setting off on foot to pester his mistress's tenants for their overdue rent money, some people have portrayed Harrison as little more than a debt collector. But the position of steward was much more than just that. It should be remembered that Sir Baptist Hicksand then the Noels after him were Lords of the Manor of Campden and Berrington . In feudal times, the steward of the lord of the manor was a powerful position. Not only was he estate manager and book-keeper, he would also preside over the manor court on behalf of the lord. By the 17th century, most of the machinery of feudal life had been swept away and rents had replaced the obligation to do work on behalf of the lord. In Gloucestershire, however, a large amount of land was still occupied by copyhold, which meant that the tenant's title to the land was an entry in the manor court rolls, of which the tenant had a copy. Any transaction related to copyhold land would have to go through the manor court and be recorded on the court rolls. This would traditionally have been the job of the steward.
No manorial court records for Chipping Campden during Harrison's time appear to have survived, sadly. It is not clear whether the courts were still regularly held or if Harrison's role as steward for the Noels included these responsibilities. If any records were to be found, they are likely to shed considerable light on the true nature of Harrison's position.
It is should also be noted that the Chipping Campden Borough Charter of 1605 specifies that the steward of the borough was to be "learned in the law". He would be elected and paid by the burgesses and would act as their "advisor in matters of law". The first Steward of the Borough was Nicholas Overbury , grandfather of the author of the Account, who was later a judge and recorder of Gloucestershire.
Again, it is not clear whether William Harrisonwas acting as steward of the borough of Chipping Campden at the time of his disappearance. If he was, then I certainly think we must reassess the view of him as a door-to-door debt collector. It seems entirely possible that Harrison would have been educated at one of the universities and would perhaps have studied at one of the Inns of Court too.
Unfortunately, when we look at the relevant sources – Alumni Cantab and Oxon, which list students at the two English universities, and the registers of the Inns of Court – we once again fall foul of that persistent problem: William Harrisonis just too common a name!
Whereas there is no likely candidate to be our man listed in Alumni Oxon, Alumni Cantab shows that a boy named William Harrisonwas at Magdalene from 1605 until he gained his B.A. in 1608. But another boy of the same name was at Trinity in 1606 and gained a B.A. at Christ's in 1610. Which was our man? Either is possible: perhaps neither.
A William Harrisondid indeed study at the Inner Temple in 1610 and was called to the bar in 1623. If this is the steward, then he had studied at the same centre of legal erudition as both Sir Baptist Hicks(who studied there in 1573) and Sir Edward Noel of Brooke, Rutland (student in 1600). But is this our man? We cannot say.
What of William Harrison 's family? So many interpretations of this story have centred on the character and activities of Harrison's wifeand son Edward, that surely we must know a good deal about them and have plentiful documentary evidence to back it up? Far from it: we do not even know Harrison's wife's first name with any confidence. And as for Edward, he has apparently disappeared from the historical record as effectively as his father did from Chipping Campden, other than for one single entry in the parish registers.
Despite the emphasis placed on Harrison's wifeby people who have tried to explain the Campden Wonder over the years, she actually plays a relatively insignificant role in Overbury's Account. "Mrs Harrison" is mentioned just twice in the main body of the Account, plus once more in the postscript (probably written by Sherley). At no point is her first name specified. The likelihood is that Overbury never knew it or perhaps, as in the parish registers, a mere woman was not important enough to be mentioned by a name other than her husband's.
Baptism entries in the Chipping Campden parish registers at this time do not include the mother's name, so these do not give us a clue. There is no burial of a "wife of William Harrison" after 1660 (although there are, confusingly, two such burials before 1660), nor is there any "Widow Harrison" buried after 1672, the date William probably died himself. One could construe the absence of a likely burial entry in the registers for her as evidence that perhaps there is some truth in the legend that Harrison's wife hanged herself: a suicide would have been denied Christian burial in the churchyard.
Our only clue as to Mrs Harrison's forename comes from the details of the godparents of children baptised at Chipping Campden in the relevant period. A Dorothy Harrison acts as godmother to 6 different children between 1636 and 1641. On four of these occasions she is accorded the title "Mrs Dorothy Harrison", which is normally reserved for the "high-status" inhabitants of the town. Her fellow godparents are all similarly prominent people, such as the vicar William Bartholemew, his wife Mary and Mr John Gooding /Goodwin. In these entries, the parents of the children being baptised, and her fellow godparents, are the same people who are acting as godparents when William Harrison is having his own children baptised and when he himself is acting as a godparent. One is tempted to conclude that this Dorothy Harrison is the wife of William Harrison the steward.
However, as always, the picture is not entirely clear. A "Pen Harrison" is referred to in the Grammar School Accounts, and a "Mrs Penelope Harrison" also acts as a godmother in 1658. Perplexingly, this is some 8 years after the burial of "Penelope wife of William Harrison" in 1650.
However, I think we need to remember that at this time the title "Mrs" was really just an abbreviation for "Mistress" and not yet reserved for married women. For example, in his will Baptist Hicks leaves a number of legacies to his granddaughters whom he refers to as "Mrs Elizabeth Noel" and "Mrs Penelope Noel". It is possible therefore that the 1658 godmother "Mrs Penelope Harrison" is Harrison's unmarried daughter Penelope, who would, however, only be some 19 years old at the time.
Without being sure of Harrison's wife's first name, we will never know for sure where and when he married. No likely marriage of a William Harrisonto either a Dorothy or a Penelope has yet come to light.
On the other hand, there is a rather interesting marriage of a William Harrison and a Dorothy that should be mentioned, although this cannot be the marriage of the steward himself. On 26th October 1585, a William Harrison married a Dorothy Cole at Oakham, Rutland. Could this be Harrison's parents, one wonders? The date, 1585, would be highly consistent with Harrison's supposed date of birth around 1590 (assuming Overbury's "about seventy" in 1660 to be correct). The location, Oakham in Rutlandshire, is deep in Noel territory. One could surmise that the bride, Dorothy Cole, might be connected in some way to the family of William Cole, Dean of Lincoln: perhaps she was a sister or cousin of Robert Dover's wife Sibella Cole? And, of course, the forename Dorothy might lead us to speculate that the woman recorded in the Chipping Campden registers as a godmother, Dorothy Harrison, might actually be the steward's mother, not his wife. She is last mentioned in the registers in 1641: by this time Dorothy Cole would probably be well into her seventies, but this does not make it impossible that she could be the godmother.
This is, of course, pure conjecture. The 1585 marriage may be completely irrelevant to our story, but it is interesting nonetheless.
What of Harrison's children? The parish register lists 4 sons and a daughter baptised to a man called William Harrisonbetween 1621 and 1644, none of them Edward.
It is quite possible that some of the baptism entries relate to a different William Harrison from our man, the steward. The dates certainly suggest that this could be the case. Two sons, William and Anthony, are baptised to a William Harrison in 1621 and 1624. Then there is a gap of 13 years before the next baptism, in 1637, again of a William, to a man named William Harrison. The remaining baptisms, of daughter Penelope in 1639 and Rafe in 1644, follow fairly quickly afterwards.
There are many ways these facts could be interpreted. For example, the thirteen-year gap could conceivably be explained by postulating that perhaps a first wife died some time after 1624 and Harrison later remarried a younger woman some time before 1637. However, it seems most likely that the first two baptisms relate to the children of "old" William Harrison the weaver, while the later three baptisms are those of the children of our man, William Harrison the steward.
This idea to supported by the fact that the William Harrison baptised in 1621 was almost certainly still alive at the time of the baptism of the second William Harrison son of William Harrison in 1637: it seems reasonable to assume that the William Harrison to whom the feoffees of the Grammar School gave £2 to bind him a an apprentice this year was the boy baptised in 1621. This definitely reinforces the assumption that the fathers of these two children were different men.
Moreover, looking at the godparents at these baptisms, it should also be noted that one of the godfathers at the baptism of the first son called William in 1621 was William Davenport, the man who mentions "William Harrison Weaver" in his will. On the other hand, the godparents at the later baptisms include John Goodwin, Harrison's apparent successor as steward of the Noel estates in Campden; a Jane or Joan Goodwin who may well have been John Goodwin's wife; Honor Lillie (sic) widow of the former vicar Robert Lilley; and William Bartholomew the incumbent minister at St. James at the time.
Admittedly, Mary Gilby, who married Robert Dover's stepson Thomas Sanford after her first husband John Gilby died, was godmother both to the William Harrison baptised in 1621 and (as Mary Sanford) to Rafe Harrison in 1644, but nonetheless I think the identity of the godparents is, on the whole, also suggestive that the first two baptisms are not children of the steward.
In Overbury's Account, the only one of Harrison's children that we hear about is his son Edward. Edward's only mention in any document other than Overbury's Account, so far as I am aware, is the baptism to him of a son, William, in February 1661/2, at the time when his father was supposedly in Turkey and about six months before his reappearance. We have no record of Edward's marriage and absolutely no idea of his wife's name. Indeed, if it wasn't for the baptism entry just mentioned, I would be convinced that Overburyhad misremembered the name of Harrison's son, 16 years on. But the baptism entry exists, and since it reads "William son of Mr Edward Harrison", this sounds like it is probably the same man who is involved in the story.
One also wonders whether the "Mr Francis Harrison" who has a son baptised at Chipping Campden in 1665 might not be another son of the steward's whose baptism, like Edward's, is not recorded there, for whatever reason.
Were these sons baptised somewhere else, perhaps prior to William Harrisonarriving in Chipping Campden, that is, if he was not a local man by birth? If Edward was, as the postscript to the Account suggests, Harrison's eldest son, then this would seem the most likely explanation.
What of the younger children? Of the William baptised in 1637 and Rafe in 1644, nothing further is known. Given the levels of infant mortality at the time, the most likely explanation for this is that they did not survive, although it is strange that no burials are recorded for them in the register. As mentioned earlier, the daughter Penelope may have been a godmother in 1658: other than that, she too is unknown to history, it would appear.
The postscript to the Account tells us that after Harrison's return some people quickly pointed the finger of suspicion firmly at Edward Harrison, asking, Poirot-like, who profited from Harrison's disappearance, who had a motive to dispose of him? The answer, according to some, was his son Edward, who supposedly took over as steward from his father and subsequently "misbehaved" in that position. The trouble is there is no evidence to suggest that Edward Harrison even lived in Chipping Campden, let alone served as steward to the Noels. Admittedly there appear to be no relevant surviving records for the period 1660-1665. However, by 1665, it is fairly clear that John Goodwin is the man in charge. It is his name that appears on the receipts issued in respect of rents paid to the Noels and now kept at Gloucestershire Record Office, and it is he who drew up the "rental" or list of tenants and their debts which can be found at LeicestershireRecord Office.
In the "Travels of Dr Richard Pococke, Bishop of Ossory in 1764", the author mentions in relation to the ruins of Campden House that "the materials of the house were sold to a steward who made the most of them". It is unclear to which steward this refers or exactly what is meant by the phrases "the materials" or "made the most of them". Possibly, the suggestion here is that the steward in question acquired what was left of the burnt-out house and in some way exploited the remnants to his own advantage. Certainly it is known that stones from the house were reused in later buildings in Chipping Campden. Cotswold stone turns a pinkish colour when exposed to heat. Such burnt stones can apparently be seen in various places in the town. Overbury's phrase that the ruins of the old house were "not unfit for such a Concealment" might suggest that there was substantially more of the building still standing at that time than does today and that a plentiful supply of construction materials might have been available to be disposed of. This in turn suggests that the steward in question was probably not William Harrison but a later steward, who would have been responsible for dismantling the ruined building and taking advantage of the stones in some way, either by using them for building himself or by reselling them at a profit. Could this have been Edward? Could this have been the "misbehaviour" mentioned in the postscript to Overbury Account?
Finally, what of Harrison's political and religious allegiances? Knowing where he stood on the issues of his day might help us understand who his friends and enemies would have been. But here again the answer is a deafening silence. We known nothing of these things directly, but can perhaps draw some conclusions from the company the man keeps.
Baptist Hickswas closely associated with James I. His successors, the Noels, were prominent Royalists. Lady Juliana's husband Edward 1st Baron Noel of Ridlington fought with the King and died in the King's quarters at Oxford on 8th March 1642/3. Her second son Henry was taken prisoner by Parliamentary forces the same month and died the following July. Although William Bartholemew , vicar of Chipping Campden 1636-1660 and godfather to William Harrison's son Rafe, had a reputation as a man of Presbyterian inclinations, his Royalist credentials appear never to have been in doubt, and indeed he is said to have been harassed by Cromwell's regime for his Royalist sympathies.
If one can draw any conclusions from these things, then all the signs are that William Harrisonwould be a man of Protestant leanings but nonetheless a Royalist not a Roundhead. But who really knows?
I remain convinced that if a "solution" to this mystery is ever to be established, it will be found not through wild conjecture about what schemes and intrigues Harrison might have been involved in, but by shedding light on the man himself, his origins, beliefs, adherences and interests
---
Mentioned in the Chipping Campden Grammar School accounts as receiving charity money.
Possibly the same William Harrison "weaver" who is mentioned as a weaver in "Men and Armour" (1608) and had two sons baptized at Chipping Campden in 1621 and 1624 and who is mentioned in the will of William Davenport in 1633.
He could also be the William Harrison who was buried there in 1670 (assuming the 1672 burial of Mr William Harrison to refer to the protagonist of the Campden Wonder tale).
A "John Harrison, weaver", most likely a relation of some kind, is also mentioned in the Parish Registers.
---
Son of William Harrison. He is the only one of Harrison's children mentioned in the tale.
In the postscript to Overbury's account he is described as Harrison's "eldest son", though this cannot as yet be proven by genealogical data since no definite record of his baptism has been found. Certainly none exists in the Chipping Campden registers, where he appears to be mentioned only once, when his son William (presumably named after the child's grandfather) is baptized there on 9 Feb 1661/2, during the period Harrison is supposed to have been held prisoner in Turkey. This entry almost certainly relates to the Steward's son because the father is listed as "Mr Edward Harrison", where the use of "Mr" is reserved in the registers for those of high social standing.
There is also no record of Edward's marriage in the Campden registers, and since no wife's name is mentioned in relation to the baptism of the son, tracing the marriage will be hard.
If we take seriously Overbury's description of the Steward as being "about Seventy Years of Age", then we must ask ourselves how old his eldest son would be in 1660. We may well be mistaken to think of Edward as a mere boy and should not be misled by John Perry's reference to his "young master": this is probably only a customary courtesy. If he was the eldest son, Edward is likely to have in his 30s or even 40s.
One other possibility should not be overlooked. Edward could be William's stepson - the son of Harrison's wife by a previous marriage perhaps.
---
Harrison's wife is usually regarded as an important player in this story. She is the focus of several myths which have grown up around the tale, in particular that which claims that she committed suicide after Harrison's return. John Masefield even wrote a play called "Mrs Harrison" on this subject. Yet she is in fact only referred to twice in Overbury's account, and we know virtually nothing about her with any certainty, not even her first name.
It is even possible that Harrison's wife was already dead by 1660 and that the woman mentioned by Overbury is either a figment of his imagination or actually Edward Harrison's wife, William's daughter in law. My reason for proposing this possibility stems from a reading of the Chipping Campden Parish Registers, which show that Penelope Harrison "wife of William Harrison" was buried in 1650, and Ann Harrison "wife of William Harrison" was buried in 1658. Neither of these entries necessarily relates to our man, the Steward, since there were other men named William Harrison in Chipping Campden at the time, but they could do.
---
A great deal of myth and fantasy has grown up around the Perry family over the last 350 years. However, much of this can be dispelled by simply examining the Chipping Campden parish registers. Unlike those relating to the Harrisons, the parish register entries that mention the Perry family appear to be reasonably easy to interpret and constructing the family tree of Joan, Richard and John Perry is fairly straightforward.
JoanEdwards married Richard Perryat Chipping Campden on 14th July 1622. We do not know where or when she was born, but she must presumably have been at least 16 when she was married, so presumably by 1660 she was at least in her early fifties, more probably around 60.
Richard Perry = Joan Edwards
m 1622 d. 1661
d 1657
__________________________________________|______________________________________________
| | | | | | | | | | | |
John Elizabeth Margaret Anne | Elizabeth Margaret George Zara John Robert Zara
c 1622 c 1624 c 1625 c 1627 | c 1631 c 1634 c 1634 c 1634 c 1635 c 1637 c 1640
d 1622 d 1626 d <1634 | d<1640 d 1661 d 1638
Richard = Anne Harris
c 1628
m 1654
d 1661
Key:
c = Baptized (christened)
d = Died
m = Married
< = Before
From the other parish register entries, it is clear that Joan Perrywas widowed some three years prior to Harrison's disappearance. As a widow, she would have been subject to the usual 17th century prejudices and suspicions of witchcraft.
We can also see that her eldest surviving son Richard Perrywas already some 32 years old and had been married for 5-6 years by 1660: he was no young tearaway. The fact that he was married is confirmed by the mention in Overbury's account of his "Wife's hair-lace". Overbury's account also suggests that he had at least two children (recall the incident of the nosebleeds), probably more, but there is no baptism record for any of these children in the registers.
After the death of his father, as eldest surviving male child he would presumably have assumed the role of head of the family and taken some responsibility at least for providing for his mother, brothers and sisters, as well as his own wife and children. This would have given him some degree of influence over his younger brother John.
In 1660, however, John Perry was not the mere boy he is sometimes made out to be. He was baptized at Chipping Campden on 7th February 1635/6 and so was probably around 25 years old at the time he confessed to the supposed murder of William Harrison .
---
Sir Thomas Overbury was the son of Sir Giles Overbury of Bourton on the Hill, Gloucestershire and his wife Anne, née Sherley. The Overbury's were people of some substance in this part of England. Their name would certainly have been well known in the area and elsewhere – though not always for reasons they would have desired.
Sir Thomas's grandfather, Sir Nicholas Overbury(ca. 1549-1643) was a lawyer, who studied at the Middle Temple, and rose through the ranks of his profession to become a judge in Wales and later recorder of Gloucestershire. Sir Nicholas had three sons who survived into adulthood. Sir Giles (1590-1653), father of the author of the account of the Campden Wonder, was his second son. A third son, Sir Walter (1593-1637) was twice M.P. for Cardigan. But it was Sir Nicholas's first son, also called Sir Thomas, who brought the family its most lasting fame, or rather perhaps, notoriety.
This Sir Thomas , uncle of the author of the Account, was the first in the family to display literary talents. A gifted poet, he would probably be best remembered for his essay in verse "A Wife", which describes the attributes of the perfect spouse, if it were not for the mysterious and scandalous circumstances in which he met his tragic end.
About 1601, Sir Thomas "and John Gilby, his father's chief clerk, were sent upon a voyage of pleasure to Edinburgh". There the young Overburywas introduced, to Robert Carr, a handsome Scots lad with whom he quickly struck up a close friendship. Carr certainly became Overbury's protégé. He was almost certainly his lover too.
When Elizabeth I of England died in 1603, James VI of Scotland acceded to the throne south of the border as well, becoming James I of England. Overburyfound a position at court as servitor-in-ordinary to the king, and he may well have been responsible for introducing Carrthere too. In 1607, Carr came to the attention of the king when he broke his leg while taking part in a tilt, falling from his horse right in front of the king, who is said to have rushed to cradle the young man in his arms.
When he had recovered, Carr was appointed Gentleman of the Bedchamber. James's liking for attractive young men was well known. As a teenager, his relationship with Esmé Stuart, Seigneur d'Aubigny, Earl of Lennox had drawn the public disapproval of Scottish church leaders. On his accession to the English throne, the phrase that was doing the rounds and amusing his new subjects was "Rex fuit Elizabeth: nunc est regina Jacobus": Elizabeth was King, now James is Queen.
With the King's support, Carr's career at court took off and he was created Viscount Rochester in 1610 and later Earl of Somerset. Meanwhile, Carr's former friend and protector Overbury , found himself sidelined and out of favour.
When, in 1611, Carr became infatuated with Frances Howard, countess of Essex, and made clear his intentions to marry her, Overburywas vehemently opposed to the relationship. An unseemly battle for the affections of the young Robert Carr developed between Overbury and the countess. Having divorced her husband, she was determined to get her new man and she didn't much mind what she had to do to get him.
The Countess engineered a falling out between Overburyand the King. James was persuaded to offer Overbury a position as ambassador. If he accepted, Thomas would be well out of the way overseas, unable to exercise much influence over Carr. If he declined, it would be seen as a sleight against the King. Overbury couldn't win either way, but decided to refuse the appointment, much to the annoyance of the King, who had never had much time for this rival to Carr's affections. On 26th April, 1613, James despatched Sir Thomas to the Tower.
Not content with this victory, the Countess now resolved that she must go one step further and dispose of Overburyonce and for all. Over a period of nearly five months, at the Countess's bidding, Overbury's gaoler regularly poisoned his food with arsenic and mercury and fed him tarts doctored with a variety of bizarre substances including sulphuric acid, "powder of diamonds", "great spiders" and cantharides. Overbury's health, not surprisingly, took a turn for the worse. The young poet faded and, on 15th September 1613, died and was buried at the Tower, presumed dead of natural causes.
Two months later, Rochester and the Countess of Essex were married. She had got her man.
But she had not got away with it. Less than two years later, the Secretary of State, Sir Ralph Winwood, learned the truth about Overbury's death from information given by a boy employed by one of the apothecaries who had supplied the poison. Investigations were set in motion, and those involved in the affair, including the Earl of Rochester and the Countess of Essex themselves, were eventually brought to trial, in May 1616, and convicted of Sir Thomas' murder. They too found now themselves in the Tower, but unlike Sir Thomas, they were spared death by a royal pardon. The King was looking after his favourites. Some even said he himself had had a hand in the affair.
The murder of Sir Thomas Overbury was an enormous scandal at the time, and Sir Thomas's father, Sir Nicholas, described how crowds would follow him in the street shouting "There goes Sir Thomas Overbury's father". Some wag worked out that Sir Thomas Overbury was an anagram of "O, O, a busie murther!"
Over sixty years later, when Sir Thomas Overburythe younger, son of the poet's brother Giles, came to write his Account of the Campden Wonder, people no longer followed him in the street. But no doubt the scandal attached to his uncle was far from completely forgotten, and one wonders how many people recalled the story of the poet poisoned in the Tower when the Overburys once again found themselves embroiled in a cause célèbre.
In his fictionalised account of the Campden Wonder "The Silver Bowl", Hugh Ross Williamson links the murder of Sir Thomas Overburyin the Tower and the Campden Wonder events 50 years later. In reality however, there is nothing to suggest that these two equally fascinating incidents are in any way linked and the Overbury family appears just to have been remarkably unfortunate to be embroiled in these two cases within the space of two generations.
Not a great deal is known about the life of the author of the Account. The famous Oxford antiquary and historian Anthony Wood said of Overburythat he "was not educated in any university, only was a great traveller in parts beyond the seas, and afterwards a favourer of Protestant dissenters". We know nothing of his travels, but we do know of his championing of religious freedom. In 1677, he wrote "Queries proposed to the serious Consideration of those who impose upon others in Things of Divine and Supernatural Revelation, and persecute any upon the account of Religion." When this was countered by a tract written by George Vernon , rector of Bourton on the Water, entitled "Ataxiae Obstaculum, an Answer to certain Queries dispersed in some parts of Gloucestershire", Overbury responded in 1678 with "Ratiocinium Vernaculum", which translates roughly as "Common Sense". We can get an impression of Overbury the man from the closing words of this work:
"I say take away Tyranny and restore Christians to their just and full Liberty of captivating their understandings to Scripture only, and, as Rivers, when they have a free passage, run all to the Ocean, so it may well be hoped, by God's blessing, that Universal Liberty, thus moderated, may quickly reduce Christendom to Truth and Unity."
Slightly pompous and verbose though he may have been, Overburywas nonetheless clearly a passionate believer in individual religious freedom in an age that was all too dominated by religious bigotry and was only just then emerging from fifteen years of civil strife sparked in large measure by differences over questions of faith.
It is certain that Sir Thomas was active as a magistrate in the Campden area at the time of William Harrison 's disappearance. A document at GloucesterRecord Office (D1340 A1/A1) records various wrongs suffered by the Quaker communities of Gloucestershire and includes an account of the breaking up by drunken soldiers of a Quaker meeting at neighbouring Broad Campden in 1660. The soldiers escort the Quakers off to take the Oath of Allegiance before a magistrate, none other than Sir Thomas Overbury , but they refuse to take the oath and Overbury is reluctantly obliged to commit them to gaol in Gloucester.
However, in August 1660, Overbury may well have been quite new to the job. He was knighted only on 25th June 1660, and it seems likely that he became a magistrate around the same time, as the new regime appointed is own men to positions of authority.
Judging from the concluding paragraph of Overbury's letter, in which he apologises for not having written sooner, it would appear that it was the addressee of the letter, the man referred to as T.S., who had encouraged Overburyto write his version of events. As we shall see, T.S. was almost certainly Overbury's cousin, Thomas Sherley.
What were Sherley's motives in urging Overbury to write down his reminiscences of the incident and what were Overbury's reasons for agreeing to do so, sixteen years after the events in question? We can only guess.
Possibly they were purely financial. Maybe the doctor had heard his cousin tell the story over dinner and recognised that this was a tale that, if published, would appeal to the general public?
However, there may be other reasons too. As we have seen, a number of popular versions of the story had been published and gained some notoriety. These tended to emphasise the supernatural interpretation of events, the version in which Joan Perry spirited Harrison away to Turkey by the use of black magic. Both Sherley and Overbury were men of learning and reason. It would be anachronistic to call Sherley a "scientist", but his publications on medicine, chemistry and geology certainly reveal a fascination with the world and a desire to explain it in natural terms rather than supernatural. Overbury's papers calling for religious tolerance also suggest that he was the kind of man who would have wanted to encourage a rational explanation of the strange goings-on in Chipping Campden in the summer of 1660 if he could. It is not unreasonable to surmise that Sherley and Overbury wished to publish the Account with a view to providing a factual record of events which could counteract the wild and fanciful stories that were springing up about Harrison's disappearance.
Overburymay have been uniquely able to do just that.
The Justice of the Peace that Overburymentions in the Account is not named. Yet we know that Overbury himself was a Justice of the Peace in the Campden area at the time. Much of what Overbury relates in the Account, such as the interrogation of the Perry's, must strike us as deriving from eye-witness testimony. If Overbury was not himself the investigating magistrate, he must at the very least have heard of the story directly from one of his colleagues. More likely Overbury himself was the Justice of the Peace who questioned the Perrys and sent them for trial.
This must lead us, inevitably, to question the reliability of the Account as a historical source.
Apart from one cruelly brief and sketchy note in the legal records of the time, and a couple of popular versions where the tale has clearly been "sexed up" (to use a topical phrase) for mass consumption, Overbury's Account is pretty much our only source for the Campden Wonder story. Certainly it is our only account written by someone who was probably involved in the events at the time. What we know of Sir Thomas Overburyas a man must lead us to conclude that he was, by the standards of his age, fair-minded and tolerant, but we must never forget that he was, in effect, the investigating officer in a case which turned out to be a notorious miscarriage of justice.
It is as if our only information about the cases of the Birmingham Six or the Guildford Four were the memoirs of the police chief responsible for arresting the men who were wrongly convicted. However much Overburywas a man of reason, sixteen years later, when he came to write the Account, he must have been tempted to sanitise his involvement in the investigation of Harrison's disappearance. Once again an Overbury was at the centre of a scandal, and Sir Thomas must have been tempted to whitewash his role in the affair, if only for the sake of his family's name. When reading his Account, it is as well to bear this in mind.
Late in life he sold his property at Bourton and removed to Quinton. He was buried at Quinton on 6 March 1683-4. By his wife Hester Leach he left a daughter Mary, who married at Bourton in 1659 Sir William Whitelocke.
---
Overbury's account of the Campden Wonder story is published in the form of a letter addressed by Overbury to one "T.S., doctor of physick in London". According to Hyett, it was Sir Sidney Lee who first suggested that the doctor in question was Thomas Sherley or Shirley, physician in ordinary at the court of Charles II. However, Sir Anthony Wood's annotated copy of Overbury's Account at the Bodleian has the word "Shirley" written alongside the initials T.S. on the title page, so it would appear that this identification dates right back to the 17th century. There can be little doubt that T.S. was indeed Thomas Sherley. Overbury's letter to T.S. closes with the words "Your most affectionate kinsman", and Thomas Sherley was indeed a cousin of Overbury's: Overbury's mother, Anne, was a Sherley by birth.
Sherley was also the grandson of another Thomas Sherley who, along with his brother Sir Anthony, had been famous fifty years earlier as an "adventurer". That is what the English called him, at any rate: to the Turks, he was a pirate, who raided their shipping in the Mediterranean. On at least one occasion, both brothers were held prisoner by the Turks at the same time. In 1603, while Sir Thomas Overbury's uncle was enjoying the friendship of the young Robert Carr at King James 's Court in England, Thomas Sherley's grandfather was languishing in a Turkish gaol, hoping that the same King James would pay a ransom of 50,000 chequins to save him from being beheaded by the Pasha admiral at Constantinople. Fortunately for Sir Thomas Sherley, the Pasha fell out favour with the Sultan and was himself beheaded before he could order Sherley's execution! Sherley was eventually released late in 1605, arriving back in England in 1606.
Within nine months of returning home, Sherley found himself in prison again, this time in the Tower of London, accused of trying to undermine English trading links with Turkey and the Levant to the advantage of Venice. In a strange echo of the fate of Sir Thomas Overbury , whilst in the Tower, Sir Thomas Sherley attempted to commit suicide by taking poison. He failed, and lived on for another 26 years.
Sir Thomas Sherley appears to have developed an intense dislike of the Turks. He too was a published author, and in his book "Discours of the Turks" he paints a none too complimentary picture of life in the Ottoman Empire. Amongst other things, he accuses the Turks of a taste for promiscuous homosexuality, claiming "For their Sodommerye they use it soe publiquely and impudentlye as an honest Christian woulde shame to companye his wyffe as they do with their buggeringe boys". Homosexuality was known for a time in England as "the Turkish vice".
The man to whom Overbury addresses his Account of the Campden Wonder was Thomas Sherley, grandson of the adventurer, physician to Charles II. He was already a published author and translator. In 1672, he wrote and published "A Philosophical Essay, declaring the probable cause whence stones are produced in the outer world." In what is considered an important early work of mineralogy, Sherley argues that all rocks and minerals are formed by seeds (or seminal principles) and water. He was also the translator of a number of important medical works. These include "A Treatise on the Gout"; Mayerne's "Medicinal Councels; and "Cochlearia curiosa: or the curiosities of scurvygrass". This latter work, a treatise on the importance of this plant in the treatment of scurvy, describes an early attempt to extract what we now know as ascorbic acid or vitamin C.
One notable work translated from Latin into English by Sherley was Esholt's "The Curious Distillatory: or, The Art of Distilling Coloured Liquors, Spirits, Oyls, &c. from Vegitables, Animals, Minerals and Metals. A Thing hitherto known by few. Containing many Experiments easy to perform, yet Curious, surprizing, and useful: relating to the production of Colours, Consistence, and Heat, in divers Bodies which are Colourless, Fluid and Cold. Together with several experiments upon the blood (and its serum) of diseased persons, with diverse other Collateral Experiments." (1677) Curious indeed that Sherley should translate a work on distillation, one of Harrison's activities while in Turkey.
---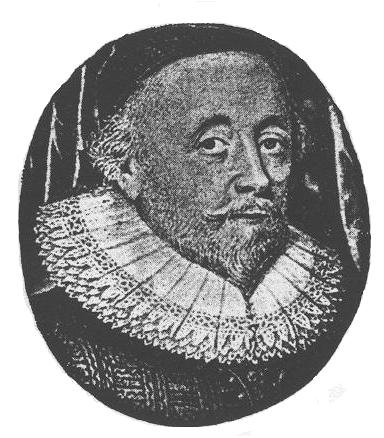 Baptist Hicks was born in 1551, the third and youngest son of Robert Hicks and JulianaArthurs. Robert Hicks was a mercer, that is to say a dealer in textiles, and had family links with Bristol and Gloucestershire, but his commercial base appears to have been in the Cheapside district of London.
The young Baptist Hicks was probably educated at the St. Paul's School. In his will he provided scholarships for pupils of this school to study at Trinity College Cambridge, where he himself had enrolled in 1568. In 1573 he became a student at the Inner Temple, but there is no record of his ever having practiced law. It is clear that at some point Baptist moved into his father's trade and took over the running of Robert's shop at the White Bear in Cheapside. He was admitted as a freeman of the Mercers' Company in 1580, a body of which he would be master no fewer than four times.
In 1584 he married Elizabeth, the daughter of RichardMay of London. Two sons and three daughters were born to Baptist and Elizabeth between 1586 and 1594, but both sons and one of the daughters died in infancy, leaving just Juliana(or Julian) the eldest daughter and her sister Mary.
Sir Baptist's elder brother Michael (1543-1612) was perhaps even more influential and powerful, if less wealthy, than Baptist himself. Michael was secretary to William Cecil, Lord Burghley. Born in Lincolnshire, Burghley served Queen Elizabeth for forty years first as secretary and then as lord treasurer between 1558 and 1598. Burghley had great influence at Court and as his secretary Michael Hicks was also able to pull a few strings when necessary.
With Michael's help, Baptist managed to win the right to supply the Court with silks and other valuable textiles. When Elizabeth I died, he received an order worth £3,000 to provide "velvets, damasks and satins of the colour crimson, to serve the coronation" of the new King JamesI and on 24th July 1603 Baptist Hicks was knighted for his services. Despite this advancement, he continued in his trade and was indeed something of a social innovator, becoming one of the first knights of the realm to run a shop.
However, the textile trade was far from his only source of income. Sir Baptist was also a money-lender, making loans of up to £150,000 (an immense sum in those days – perhaps equivalent to £15 million today) to various creditors, including the King himself. On occasions, it is clear that Hicks was sailing pretty close to the wind in his financial dealings. The King and his courtiers were very good at borrowing money, not so good at paying it back. In letters to his brother Michael, Baptist complains that the Scots are "fayre speakers and slow performers," and refuses to give them any more credit.
But the risks he ran paid off. His speculation led to the accumulation of a vast fortune, which allowed him to invest in ventures overseas too. He was a prominent member of the Virginia Company, and the Second Charter of Virginia dated 1609 bears his name. In 1612 Hicks was active in the company of speculators which purchased Bermuda (then known as the Somers Isles).
Despite his humble origins, Sir Baptist's rapidly growing wealth opened many doors for him and led him to positions of authority outside of the world of commerce. In 1606, for example, he was foreman of the jury at the Guildhall which convicted the Jesuit Father Henry Garnet of complicity in the Gunpowder Plot.
By now he was one of the wealthiest men in the country and he clearly felt he needed a country seat that reflected his affluence and importance. In March 1610, he purchased the manors of "Campden, Chipping Campden, Broade Campden and Berrington". On a piece of land adjoining the church, he built Campden House, one of the finest and most sumptuous mansions of its age, set in grounds and gardens extending over eight acres. The façade alone was said to have cost £29,000, the furnishings £15,000 – a total of perhaps £50 million at today's values.
In 1613 he purchased the living of Campden (that is, the right to appoint the vicar of the parish church) and over the following years extended his possessions to include a large amount of land in and around Chipping Campden as well as elsewhere in Gloucestershire and other counties.
On 1 July 1620 he was made a baronet. Later that year he became a Member of Parliament for the first time, when he was elected M.P. for Tavistock, but it was Tewkesbury that he represented in the parliaments of 1624, 1625, 1626, and 1628. He was also Lord Lieutenant of Middlesex in 1625.
On 5 May 1628 Baptist Hicks was raised by Charles I to the peerage as Baron Hicks of Ilmington, Warwickshire, and Viscount Campden of Campden, Gloucestershire. Since he had no surviving son, it was stipulated that his son-in-law, Edward Noel, Lord Noel of Ridlington, Rutlandshire, husband of his eldest daughter Juliana, would inherit the titles at his death.
Hicks died, aged 78, on 18th October 1629, and was buried at St. James Chipping Campden, where a magnificent marble monument to his memory can still be seen today.
His funeral oration was read by John Gaule. Ironically, considering what happened to poor Joan Perry thirty years later, Gaule later was to become a critic of the witch-hunts of Matthew Hopkins in the 1640s, complaining in "Select Cases of Conscience" that "Every old woman with a wrinkled face, a furrowed brow, a hairy lip, a gobber tooth, a squint eye, a squeaking voice or scolding tongue, having a rugged coat on her back, a skull-cap on her head, a spindle in her hand and a dog or cat by her side, is not only suspect but pronounced for a witch".
Gaule's sycophantic eulogy for Sir Baptist tells us little about the life of the man himself. It was published as "A Defiance to Death Being The Funebrious Commemoration of the Right Honourable, Baptist Lord Hickes, Viscount Camden, late deceased Preached at Camden in Gloucester-shire, November 8, 1629". It is mainly of interest for the list of charitable donations that it includes as an appendix, claiming that "What he hath bestowed to pious and charitable uses amount to more then (sic) 11000 pounds".
Most interesting of all though, are perhaps the two pieces of Latin verse that end Gaule's publication. Entitled "Prosopopoea (sic) Latinis Iambis" and "Epitaphium", these bear the name "Henricus Noel" and are therefore probably the work of Hicks' grandson, Henry. They both suggest strongly that Hicks had been a great traveller in his younger days. For example, the latter includes the lines:
Qui transmarinam navigans
Tot orbis ampli littora
Expertus, omnem noverat
Terrae marisque semitam
(He who, sailing the oceans,
Familiar with so many
Of this wide world's shores,
Knew every path of earth and sea)
Little is known about Hicks' early life. As an importer of exotic textiles, his trade would clearly have involved him in dealing with merchants from overseas and it is quite possible that he did himself travel widely abroad. In Bishop Benson's Survey of the Diocese of Gloucester, 1735-1750 (written over 100 years after Sir Baptist's death), it is stated that Hicks traded with Turkeyand that he had at one time been taken prisoner by the "Moors". Whilst incarcerated, Hicks is said to have vowed to give £5,000 to charity if he ever returned to England. Within a few hours of making this vow, so the report goes, he was set free and, on his return, was not only true to his word, but indeed, gave over £10,000 to charitable causes. This sum is also mentioned on his epitaph in St. James, Chipping Campden and is roughly consistent with the £11,000 mentioned in Gaule's eulogy.
There is no doubt that Hicks was a major contributor to charities of various kinds, both in Chipping Campden and elsewhere. What truth, if any, however, there is in this story of Hicks having been a prisoner of the Turks, which appears only in an obscure report written a long time after his death, is unclear. Whether it is true or not, it seems to have some connection with the Campden Wonder. If it does have a basis in fact, then Harrison's claims to have been a prisoner of the Turks himself would be a curious echo of Sir Baptist's experiences. If it is a fantasy, then it seems that Hicks, the widely travelled dealer in oriental textiles, and Harrison, the supposed slave in Smyrna, have somehow become conflated in local memory and that this composite story is the result.
Hicks is a fascinating character in his own right. His influence on Chipping Campden is strongly in evidence even today. In 1660, only 30 years or so after his death, his family was still the dominant force in the town.
---
When Sir Thomas Overbury's Account of the Campden Wonder mentions William Harrison's "mistress", the lady in question was his employer as steward of the Campden estates, Lady Juliana , Countess Campden.
Born in 1586, Juliana Hicks was the eldest daughter of Sir Baptist Hicks and his wife, Elizabeth May. She is sometimes also referred to as "Julian", which at this time was normally a female forename and is a variant of the modern girl's name Gillian or Jillian.
On 20th December 1605, Juliana married Edward Noel, son of Sir Andrew Noel of Brooke , Rutlandshire. When her father died, since there was no male heir, his estate was shared between the two surviving daughters Juliana and her younger sister Mary, wife of Sir Charles Morrison, but Sir Baptist's titles were inherited by Juliana's husband Sir Edward Noel and subsequently passed down through the Noel family.
After Sir Edward's death in 1643, Juliana, as Viscountess dowager of Campden, continued to live at Brooke, where she is said to have "maintained great state and dispensed much hospitality" (Dictionary of National Biography). It is doubtful whether she ever spent any extended period of time in Chipping Campden.
Juliana died at Brooke on 26 Nov. 1680, and was buried in the family tomb in St James ' Chipping Campden on 12 Jan. 1681.
---
Sir Edward Noel
Sir Edward Noel was the eldest son and heir of Sir Andrew Noel of Brooke, Rutlandshire. He was admitted to Sidney College Cambridge in November 1598, gaining his B.A. 1599-1600. According to his memorial in Campden church, he fought in Elizabeth's Irish wars. He was M.P. for Rutland in 1601, knighted in 1602, Sheriff of Rutland 1608-9, made a baronet in 1611 and given the title Baron Noel of Ridlington in 1617.
In 1605, Noel married Juliana, eldest daughter and coheiress of Sir Baptist Hicks . When in 1628 Hicks, who had no male heir, was made Baron Hicks of Ilmington, Warwick, and Viscount Campden of Campden, Gloucester , Noel was granted the reversion of these titles to himself and his male heirs. Noel duly inherited the titles upon the death of his father-in-law in 1629.
Like his sons, Edward Noel , was a dedicated and prominent supporter of the Royalist cause. He died on 8th March 1643 in the king's quarters at Oxford and was buried at Chipping Campden. His widow Juliana erected a fine monument to his memory in a wing of the church in 1664.
Edward and Juliana had five children. As well as Baptist Noel , his eldest son, the third Viscount Campden, who is discussed below, his second son Henry also fought on the Royalist side in the Civil War. Henry was take prisoner in March 1643 and died in captivity only a few months after his father
---
Sir Baptist Noel
Baptised at Brooke, Rutlandshire, on 13th October 1611, Baptist Noel was the eldest son of Sir Edward Noel and his wife Juliana, daughter of Sir Baptist Hicks. When Sir Edward died in 1643, Baptist inherited the titles that had reverted to his father from Sir Baptist Hicks, namely Baron Ilmington and Viscount Campden, as well as that bestowed on this father directly, Baron Ridlington.
Like his father and younger brother Henry, Baptist fought on the Royalist side in the Civil War. He appears to have distinguished himself rapidly, rising from captain to colonel and then to brigadier in only a few months during the course of 1643. The troops under his command became known as "Campdeners" and acquired a reputation for ill discipline during a campaign in the east midlands. In June 1643, they plundered Sir William Armyn's house at Osgodby. On 19 July 1643, they had taken Stamford and were threatening Peterborough.
In 1645 Campden was a prisoner in London. Although released in August 1646, his estates were sequestered and a large fine imposed for his actions in opposition to Parliament. Throughout the period of the Commonwealth, he appears to have been in constant money trouble and a persistent thorn in the flesh of Cromwell's regime.
At the Restoration he was appointed Lord Lieutenant of Rutland, on 9th August 1660, only a week before his mother's steward William Harrisondisappeared from Chipping Campden. He died at the family estates at Exton, Rutlandshire , on 29 October 1683. An imposing monument to his memory, sculpted by Grinling Gibbons, stands in the north aisle of Exton Church.
Sir Baptist Noel, third Viscount Campden, had a reputation as a man of dissolute ways. In his youth he is said to have lost £2,600 "at tennis in one day … to my Lord of Carnarvon, Lord Rich, and other gallants" (Court and Times of Charles I). He was married no fewer than four times and fathered a total of nineteen children legitimately, as well, most probably as a number of others. The following witty couplet, supposedly devised by Queen Elizabeth I as a play on the surname of an ancestor of Sir Baptist's, the courtier Henry Noel, could equally well have been applied to Sir Baptist himself, it would appear:
The word of denial and the letter of 50
Is that gentleman's name who will never be thrifty
Some have speculated that William Harrison's disappearance was in some way connected with Sir Baptist Noel's pro-Royalist activities or his wild lifestyle, speculating that Harrison has been sent abroad to take money to his mistress's son, or to carry out some other errand. Both Jeremy Potter and Victoria Bennett propose "solutions" of this kind. However, the seventy-year-old steward of his mother's country estates would seem a strange choice for such an assignment. Furthermore, the steward is always described as his mother's employee and there is nothing in the historical record to link Harrison in any way with Sir Baptist Noel.
On the other hand, it would be interesting to know more about the effects of the sequestration of the Noel estates on affairs in Chipping Campden. What did this mean for the collection of rents from the Campden tenants, for example? It is likely that the Noels had recently been restored to their estates in 1660, and it is even conceivable that the rent money which Harrison was attempting to collect – in August, unusually – may have been the first such collection for some years. Were the Noels perhaps demanding back-payment of several years' money and is this why Harrison was expecting such a "considerable sum"? No doubt, even fifteen years later, there was still lingering hostility towards the Royalist cause among the local tenants who will not have completely forgotten how they suffered at the hands of Sir Henry Bard's troops when they were occupying Campden House. It is obvious from the accounts of the Grammar School that the farmers of the area were experiencing real hardships at this time.
If this prominent Royalist family were now being heavy handed in their treatment of the tenants following the reacquisition of their estates, this would give the local people a real motive to dispose of the Noels' agent. Judging from what we are told about him in the postscript to the Account, Harrison was a well respected man in the area, and the tenants might have drawn back from actually killing him and decided simply to remove him from the area for a while. Upon his return, Harrison may have decided that enough damage had been done and not wanted to antagonise the local community (not to mention embarrass the authorities) by exposing the real culprits, and therefore invented his tall tale of enslavement in Turkey. Where in reality he had been for those two years, we will probably never know.
If anything like this is close to the truth, then it might help explain Edward's actions. If he suspected that the tenants were in some way behind his father's disappearance, and if he expected to replace his father as steward, then bringing the Perrys to Broadway Hill to be executed, and having John Perry hung in chains afterwards, could be interpreted as Edward issuing a warning to the people of Chipping Campden that any rebellion would be dealt with equally harshly.
This leaves us with the question why John Perry would confess to Harrison's murder. Did he see something when he went off to look for his master on the evening of 16th August 1660? Did he witness an abduction taking place and was he threatened to keep his mouth shut about it? Did he invent this story of his brother having strangled Harrison in the mistaken belief that they could not be convicted of it as no body would be found? Perhaps: sadly, John's motives will probably never be fully understood and are destined forever to remain the object of conjecture.
---
Questioned by Edward Harrison and John Perry while they were in Ebrington searching for Edward's father on the morning of the 17th August. Daniel says that William Harrison had visited his house on the evening of the 16th August, presumably to try to collect his rent, but did not stay long. Nothing further is known about him.
---
"William Reed" of Campden is the first person John Perry claims to have met after having been sent out to look for William Harrison by Harrison's wife. He meets him on the way to Charringworth, about a "land's length" (approx. 200 m.) from Campden Field.
Reed is questioned and confirms what Perry had said about him.
---
Pierce (also spelt Pearce in Overbury' Account) is another of the men questioned in relation to John Perry's movements on the evening of William Harrison's disappearance.
John Perry claims that after having been sent out to look for his master by Harrison's wife, he met first William Reed then "one Pierce". According to Perry's original statement, he and Pierce went together "about a Bow's Shot into the Fields", i.e. a few hundred yards into the common fields around Campden, before returning to "his Master's Gate" (probably the gate into the grounds of the ruined Campden House, where Harrison was living, it would seem).
Pierce is questioned and confirms that Perry is telling the truth so far as it affects him.
---
In his original statement, John Perry claims that on the morning of Friday 17th August 1660, at daybreak, he went to Charringworth. The first person he met there was Edward Plaisterer. Plaisterer told him that he had seen Harrison the previous afternoon and given him £23, but did not spend long with him.
Plaisterer is questioned and confirms that this was true.
---
In his original statement, John Perry claims that on the morning of Friday 17th August 1660, at daybreak, he went to Charringworth. The first person he met there was Edward Plaisterer. He then met William Curtis.
Curtis also told Perry that Harrison had called at his house the previous day but that they had not met as Curtis had not been at home.
Curtis is questioned and confirms that this is true.
---
According to Harrison, this is the name of the captain of the ship that took him abroad.
---
Vicar of Chipping Campden 1616-1636, and uncle of the most famous 17th-century astrologer and occultist, Willy Lilly, known as the "English Merlin".
Lilly is mentioned in connection with William Harrison in a number of entries in the parish registers.
Lilly was born in Leicestershire some time around the year 1582. In 1602 he entered Emmanuel College Cambridge, where he obtained his B.A. in 1606 and his M.A. in 1609. Robert Lillymarried Honor Worlech at Old Warden, Bedfordshire, on 20th May 1617 and died at Chipping Campden on 21st October 1636, aged 54.
In 1649, when Robert's widow Honor Lillydied, William Harrison rented the house she had been living in from his mistress, Juliana Noel.
Interestingly, Robert Lilly was an uncle of the most famous and controversial 17th-century astrologer and occultist, William Lilly, known as the "English Merlin". However, there is no indication that William Lilly had any connection with Chipping Campden.
An inscribed tablet to Robert Lilly's memory can be seen in St James, Chipping Campden.
---
Wife of Robert Lilly, vicar of Chipping Campden 1616-1636. She was godmother of William Harrison's son William.
---
William Bartholemew was vicar of Chipping Campden from 1636 until his death on 11th October 1660, only six weeks or so after he had interviewed the Perrys at the church and attempted to persuade them to confess all (26th August 1660).
Bartholomew was educated at Trinity College, Cambridge, where he obtained his B.A. in 1628 and his M.A. in 1631. He was ordained as a priest at Peterborough on 6th April 1628. Bartholemew was first chaplain to Sir Edward Noel at Brooke before being appointed to the living of Chipping Campden. He married Mary Smyth at Gainsborough, Lincolnshireon 9th July 1623.
Despite the claim on his memorial in Campden church that he was an "eminent orator, a hammer of the sect of the religion of the orthodox English Church, a fearless advocate (even in the worst of times) of the Royalist party", Bartholemew had a reputation for Puritan and Presbyterian tendencies. During the Commonwealth, he appears to have been in some kind of trouble with Cromwell's "Thought Police". Matthews' "Walker Revised" states: "According to his successor, he was not ejected but harassed, spent £200 in defence against charges brought against him".
Bigland says of Bartholomew : "In the early Part of his Life he was suspected of being addicted to the Doctrines of the Presbyterians, which he afterwards renounced, and published a Sermon on the Restoration, entitled 'The strong Man ejected by a strong than He, shewing how the present Ejectment of the late Usurper, Satan's Confederate, out of the Royal Palace, and the Lord's Christ King CHARLES the Second possessed thereof.' London, 1660, dedicated to JULIANA Viscountess CAMPDEN. In this Publication, as well as the Title of it, the Author, though he violently combats the Principles, retains the Phraseology of the Fanatics." It is certainly not the most entertaining reading, combining intricately argued theological analysis with nauseating sycophancy towards the newly restored monarchy:
"Behold therefore a miracle, King Charles returned from his Banishment, arrived upon the coast of England, setled in his Throne, without one drop of Blood shed, or one blow given, either by way of offence or defence: All maintains of opposition are become a plain, and the Lord hath brought forth the head-stone of England's glorious Fabrick with shouting. And let us cry Grace, Grace unto it".
If John Perry had been obliged to sit through a sermon from William Bartholemew each week, it is perhaps no surprise that he exhibited signs of madness.
He was succeeded as vicar of Chipping Campden by his son-in-law Henry Hicks, who was married to Bartholemew's daughter Mary and no doubt in some way remotely related to Sir Baptist's family.
---
The surname of this family is variously spelled "Gooding", "Goodin", "Goding", "Godin", and Godwin" in the records as well as the normal form "Goodwin".
According to Gloucestershire Pedigrees, John Goodwin of Coombe near Chipping Campden was the son of William Goodwin of Epwell Oxfordshire and his wife Alice. He was baptised at Alkerton, Oxfordshire on 22nd January 1604. John Goodwin's wife appears to have borne him at least 11 children. The will of his son James Goodwin (Prerogative Court of Canterbury 1670) mentions three brothers (John, Thomas and Nathaniel) and five sisters (Susanna, Hannah, Elizabeth, Constance and Martha). We also know of another two daughters: Mary, baptised at Chipping Campden in 1635, who married Richard Cooper of Weston Subedge and was buried at that place in 1660; and Hopestil, baptised at Chipping Campden in 1636 and buried there shortly afterwards. Despite this, the regrettable habit of not recording the mother's name in baptism registers means that we do not know her name.
He appears to have been an important man in the Chipping Campden area. By 1665, it is John Goodwin who appears to be playing the role of steward of the Noel estates, in other words the position previously occupied by William Harrison. The 1665 rental of those estates is headed "Mr Goodwyn's Account" and lists both "John Goodwin jun" (presumably his son), who pays £2, and "John Goodwin gent", who pays the comparatively enormous sum of £130 (the average per tenant is about £1). Goodwin was elected a feoffee of the Grammar School alongside William Harrison on 18th October 1666, but was buried only at Chipping Campden less than three years later on 9th April 1669.
William Harrison chose John Goodwin to be the godfather of both his son William in 1637 and his daughter Penelope in 1639. Goodwin was also a godfather to the vicar William Bartholemew's daughter Mary in 1641. In return, Goodwin chose as godparents for his own daughter Hopestil in 1636: William Durham, Mrs Honor Lilly, widow of the former vicar Robert Lilly, and Mrs Dorothy Harrison, who may have been William Harrison's wife; and for his daughter Martha in 1641 he chose: William Bartholemew , the vicar, Mrs Dorothy Harrison again and Mrs Joan Canning. He is clearly part of the social elite of the town and closely connected with both Harrison and the Noels.
---
John Goodwin Junior
A "John Goodwin jun" is listed in the 1665 rental of the Campden estates. It seems fairly clear that John Goodwin senior had a son, also called John, and that this son was also employed by the Noels, possibly in the position of steward.
A John Goodwin son of John and Ellen Goodwin was baptised at Shenington on 16th September 1638. This may be John Junior's baptism but this is far from certain. The date is about right (John Goodwin senior had daughters baptised at Chipping Campden in 1633, 1635, 1636, 1637 and 1641 and a son James in 1642), but one wonders why the baptism did not take place in Chipping Campden like the others.
John Junior seems to have stepped fairly immediately into his father's shoes when John Senior died in 1669. On 11th October 1670, John was appointed a feoffee of the Grammar School as his father had been before him and continued to sign the accounts until 1690. In 1699, he donated a large silver flagon to the School.
Also, at Gloucestershire Record Office (D1495/E3 and D1495/E17) there is a set of surviving receipts for rent payments made by the Izod family in the 1670-90 period. These are signed on behalf of Lord Campden by one "John Goodin ".
John was bequeathed £100 in the will of his brother James in 1670 (National Archives PROB/11/333). He witnessed the will of his brother Thomas in 1692 (GRO 1692/140) along with a Mary Goodwin, who may have been his wife (this cannot be his sister Mary who had married and in any case died in 1660).
If John's wife's name was indeed Mary, then it is interesting, given his employers' connections with Rutlandshire, that a John Goodwin married a Mary Whitehead on 27th November 1662 at Oakham, Rutlandshire.
The only child of John Junior's that we know of is a son Austin (or Augustin) who was baptised at Weston Subedge on 15th September 1668, studied at Christ Church, Oxford and later became rector of Bourton-on-the-Hill.
John Goodwin Junior died intestate 1699 and administration of his estate was granted to his son Austin (GRO 1699/59).
The fact that John Goodwin Junior appears to have succeeded his father John Goodwin Senior as steward of the Campden estates is interesting for Campden Wonder researchers because it may give some credence to the claim made in the postscript to Overbury's Account that Edward Harrison took over as steward from his father. Since John Goodwin Senior seems to have been in this post by 1665, the likelihood is that Edward, if he did take over, lasted no more than 4-5 years in the job. It did not take him long to commit whatever "misbehaviour" he was guilty of.
---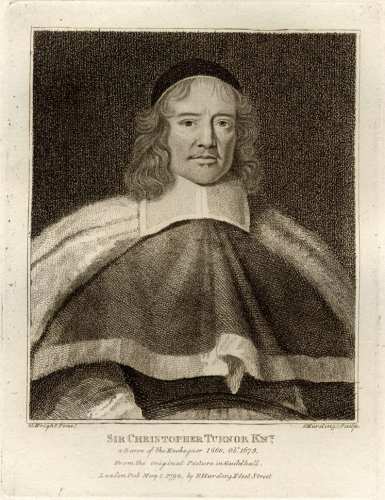 It has long been assumed that man Overburyrefers to simply as "C.T. ", the judge at the Perrys' first trial at the GloucesterAssizesin September 1660, was Sir Christopher Turneror Turnor. Sir Anthony Wood's copy of Overbury's Account at the Bodleian has the words "Sr Xtofr Turner" written in the margin alongside the initials C.T. in Overbury's text. This can now been confirmed. The few records of the Oxford Circuit assizes that survive for that Michaelmas session at the National Archives (relating to trials held at Reading and Oxford) name Turner as one of the two judges who presided, the other being Sir Thomas Malet.
Turnerwas born in 1607, trained as a lawyer at Cambridge and fought on the Royalist side during the Civil War. At the Restoration, he was rewarded by being appointed Serjeant at Law and then Baron of the Exchequer. Only a few weeks after the Perry's first trial, in October 1660, he was one of the judges at the trial of the regicides, that is, of those men who had signed the death warrant of Charles I or been otherwise involved in his trial and execution.
After the Great Fire of London, Turnerwas a member of the commission which was set up to resolve the various disputes that arose out of the rebuilding of the city. He died at Milton-Ernys in 1675.
The portrait of Sir Christopher, from which the engraving shown above was made in the late 18th century, hangs in the Guildhall in London.
Turneris one of the few people who emerge from the Campden Wonder story with some credit: he was wise enough to refuse to try the Perrys on the charge of murder without a body having been found.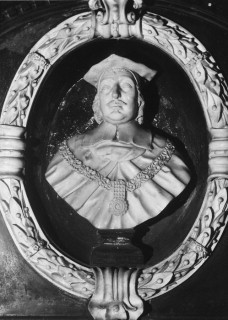 The man Overburyrefers to as "R.H.", the judge at the Perrys' second trial at the Gloucester Assizesin the spring of 1661, has long been believed to be Sir Robert Hyde. The words "Sr Robert Hyde" appear in a marginal note next to the initials R.H. in the copy of Overbury's Account once owned by Sir Anthony Wood and now preserved in the Bodleian Library, Oxford. This identification can now be confirmed once and for all as it is Hyde who is named in the preamble to the record of the Gaol Delivery at Gloucester discussed earlier.
Early editions of the Account give the judge's initials as "B.H." but this is clearly a misprint and they are corrected to "R.H." in later editions. Sir Robert Hydewas therefore without doubt the man responsible for condemning Joan Perry and her two sons to death for the murder of William Harrison, despite the fact no body had been found, an action which, as we now know, proved to be a fateful error and miscarriage of justice.
Sir Robert Hydewas born in 1595, the son of Sir Lawrence Hyde, attorney-general. Hyde was called to the bar himself at the Middle Temple on 7th February 1617 and appointed serjeant-at-law in May 1640. He served both as recorder and Member of Parliament for Salisbury before the outbreak of the Civil War, at which time he was expelled from both positions due to his support for Charles I.
At the Restoration, Hyde was knighted and made a judge of common pleas on 31st May 1660 and reinstated as recorder of Salisbury on 14th June 1660. Despite the notoriety the Campden Wonder case subsequently attracted, Sir Robert's Hyde's error of judgement does not appear to have done his career any harm. He was a commissioner upon the trial of the regicides but does not appear to have played an active role. He was Lord Chief Justice from 1663 until his death in 1665. An impressive monument to his memory can be seen in Salisbury Cathedral.